How to Choose the Right Storage Containers for Your Home
For a lot of people, selecting storage containers for their home is the "fun" part of the decluttering process. However too many people jump straight ahead to this step before tackling that not-so-fun parts which then mess up the entire process. While it can be tempting to load up your cart with all of the pretty containers and bins (such as this rattan knob and two-tiered wall shelf from Urban Outfitters), a lot of ground work must be done before getting to this step. If you skip the decluttering of your home, you'll most likely end up with storage containers that you don't need and money wasted.
Before purchasing new storage containers for your home go room by room and shed what is no longer serving you. When working through items, ask yourself questions such as do I love this? Do I use this? Does this item reflect my values? Is owning this item holding me back? After you've gone room by room and decluttered, then you are able to start the process of organizing the remaining items into spaces that makes the most sense for them to be in. At this point of the process you may need to go out and purchase new storage containers or you may be able to use ones that you already own.
Either way, when choosing storage containers for your home, you want to make sure that they are both beautiful and functional. Whenever possible I try to opt for sustainable storage containers however sometimes plastic tubs are simply the way to go! Everyone's needs are different, everyone's homes are different. Even so, we've complied a list of recommended storage containers for your home, here below.
Recommended Storage Containers for Your Home
Everyone's kitchen storage needs are going to be different however I've found the following storage containers to be universally useful in most home every home: 32 oz mason jars, glass jars, woven baskets, wire basket, and bamboo drawer organizer. By storing items in glass containers you are clearly able to see how much of what you have. BONUS: no boxes and plastic bags falling down and getting lost in your cupboards.
General Household Storage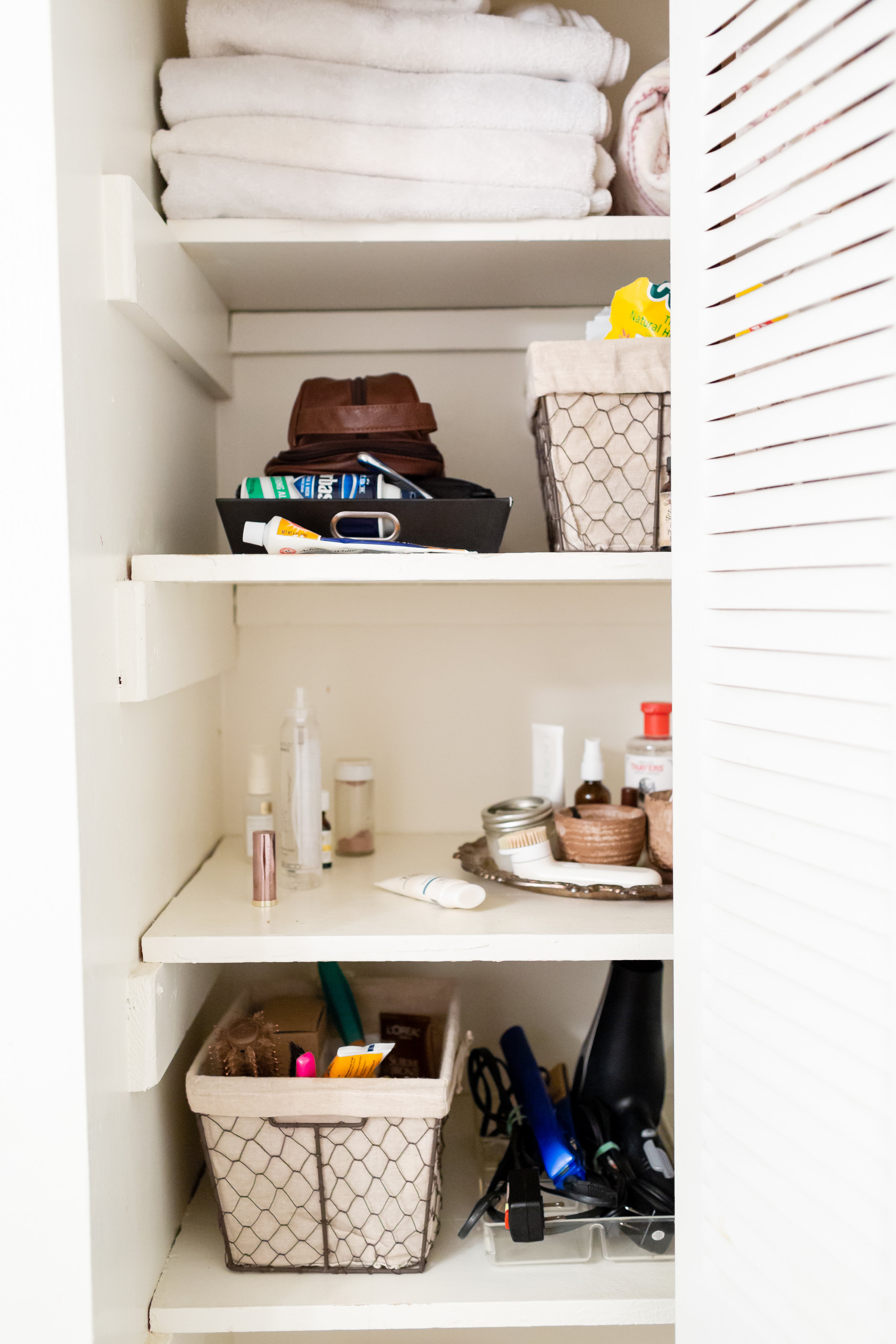 If space allows, I always have my client's hang up as much as their clothing as possible verses storing it in a dresser. This serves many purposes such as allowing them to see exactly what they have and helping to keep things neat and in good condition. These velvet hangers are wonderful as they are slim and really grip the clothes. They also make hangers with clips for pants and skirts.
For shoe storage shoe boxes or this shoe rack are a good option. Sweaters can be folded and stored on a closet shelf or in your dresser. Hat's and purses can be displayed on the closet wall, on the back of the door or on the closet shelf. Decorative trays can be useful whether used on top of your dresser or within it, storing watches, jewelry, sunglasses, etc.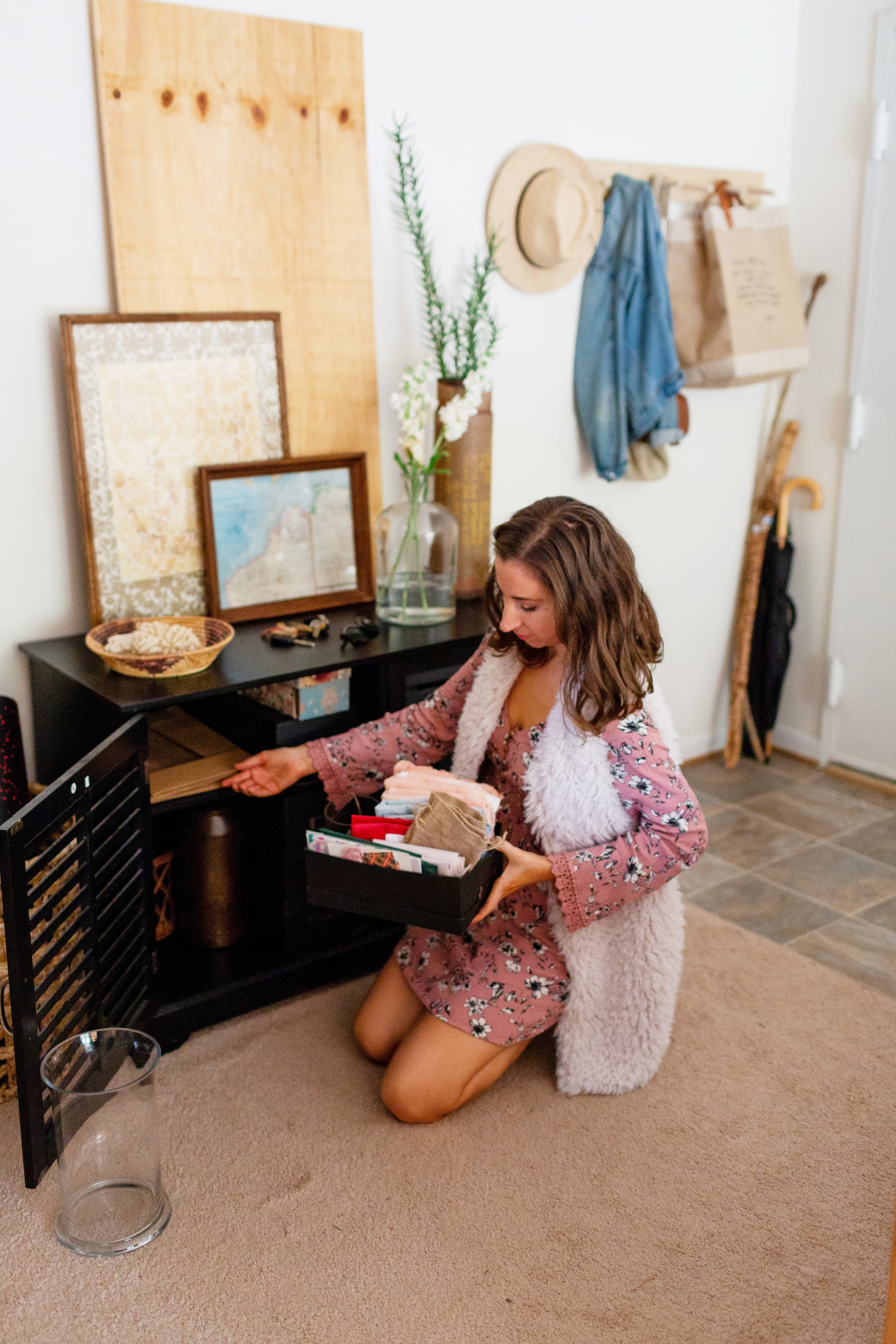 The truth is…we don't need all of the gift wrap supplies that we own. I mean seriously…how many rolls of paper and bags of bows does one need?! I'll be the first to admit that I used to feel like I did NEED all of those things however over the years I've learned to pair my gift wrap supply down to what I use and need.
I found that as much as I love wrapping paper I wasn't using it as much I was gift bags. So, I got rid of the paper and now fit my supply of bags, boxes, and a few other items inside our entry console. Tissue paper, ribbon, twine, scissors, and cards are all stored in a shoe box; which I can easily access. To keep things simple I buy only neutral colored gift wrap, jazzing it up with ribbon or fresh greenery.
My trick for storing holiday decor is to set boundaries via my storage bins. I've limited our holiday decor to 2 plastic storage bins which means that everything holiday that we have (minus our Christmas tree stand) has to fit inside of those 2 bins. Honoring this boundary has been a challenge at times but has also been helpful in keeping our collection of holiday decor (as well as our budget) under control.
Photography: Luke & Ashley Photography | Styling: Making Room for Peace